Andar Bahar Game- Inside Out PART I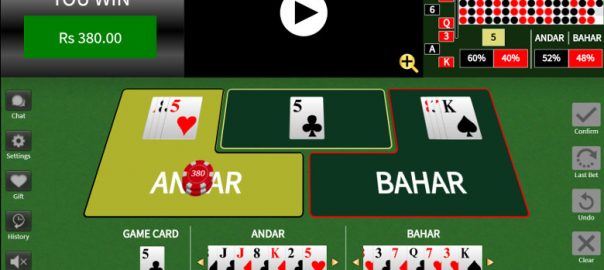 Andar Bahar is a card game that goes by many names in India. In some parts of India, it goes by the name of Katti. If you have read our guide on Katti, you might know what we are talking about here. This game is similar to Katti but not the same thing to be precise. If you visit any part of south India or go to cities like Bengaluru, you will see that people know what Andar Bahar is.
It is tough to determine the origins of Andar Bahar. India has been playing card games even before the standard deck came here. So, it should be safe to assume that some version existed before the British came here. This is because the standard deck was not famous before the colonial rule. But, people in the state of Karnataka has been playing this game for a long time, that's for sure. Some people even call it Mangatha or Ullae, Veliyae, where Ullae means Andar (Inside) and Veliyae means Bahar (Outside).
The Objective of Andar Bahar
Like all card games, your purpose is to win the round and eventually the game. Usually, you would see people playing it in the streets. It is not uncommon to see people playing behind bus stops or beside the local grocery store. The odds of you winning is 50/50, so it is just like a coin toss. You either call heads and win or call tails to win. If you are new to this game, then you can go ahead and take a guess. You can either choose Andar or Bahar, and only one can win. If that's what you guessed, you guessed right. But there's more to it than that.
How to Play the Andar Bahar Game
In this game, there is a dealer at the centre who has a standard fifty-two card deck. The rest of the players will surround him to play the game. There needs to be at least two players for the game to start. To start the game, players need to place their bets on Andar or Bahar. Two things should be noted here. One, players can choose a side, but they do have to pick up a number. This is the number of the card; the suit does not matter in this situation.
So, the primary aim is to select the side where this number will pop up. As the game proceeds, the dealer picks a card and places it face up. You can choose to bet on this card as well. Then the dealer proceeds to select twelve more cards and places it alternatingly on each side of the first. Since it would be hard to decide where the second card would be placed, the rule is if it is a Club or a Spade, then it goes to Andar and if it is a Heart or a Diamond it goes to Bahar.
For example, if the second card is a Five of Hearts, then it goes to Bahar. In that case, whatever the third card is, it will be put in Andar. The suits are essential only during the second pick. After that, the things that matter is the number and the side it lands up in.
Wrapping it Up
Andar Bahar is a relatively simple game to play. In Part I, we talked about how to play the game and covered the basics. In Part 2 we will delve deeper into the game and take a look at where you can play it and what kind of things you should keep in mind while playing the game. At Rupee Casinos, we care about you and want to make sure that you get access to the best resources at no cost. So, we hope that we have helped you learn more about Andar Bahar, and there's more you can learn about this game, if you are interested, in Part II.
Related Articles: